Oil Lamp Chimneys

Chimneys are an integral part of an oil lamp, both functional and decorative:
They protect the flame from wind and air currents which could blown out the flame or cause excessive flickering.
They help reduce the risk of fire often associated with open-flame lamps.
They, along with the burner design, help induce a draft, which promotes better combustion, increased fuel economy, and decreased smoking.
At some point in time, chimneys became quite decorative and elaborate, further enhancing the beauty and value (especially today) of a lamp.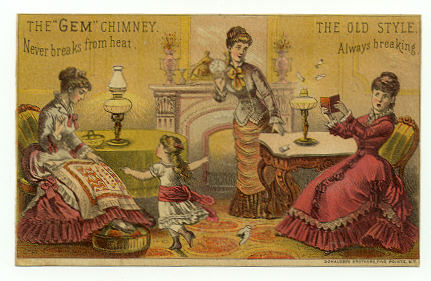 From an early advertising card - The "GEM" Chimney
| | |
| --- | --- |
| Chimney Tops | Chimney Tops - shows a variety of different ways that the tops of chimneys were formed |
| Chimney Heaters | Chimney Top Heaters - shows a number of ingeneous ways people took advantage of the heat generated by a burning lamp. |
| Chimney Covers | Chimney Covers - a few methods of keeping bugs and debris out of the chimney and burner. |
| Chimney Cleaners | Chimney Cleaners - a variety of tools and gadgets invented to aid in the cleaning of the lamp chimney. |
| Colored Glass Chimneys | Colored Chimneys - the colors ran the spectrum, many made of period art glass. |
| Tree-Shaped Chimneys | Tree-Shaped Chimneys - a scarce form of lamp chimney highly sought after by many collectors. |
| Angle Lamp Chimneys | Angle Lamp Chimneys - a few chimney-tops by the Angle Lamp Company. |
| Chimney Packaging | Chimney Packaging - occasionally a chimney turns up in it's original packaging or box, or with literature. |
| Mold-Blown Chimneys | Mold-Blown Chimneys - shows a number of different blown chimneys, most for "specialty" burners. |
| Interesting Chimneys | Interesting Chimneys - a mish-mosh of odd shapes and unique designs. |