a brief historical profile of
Wallace & Sons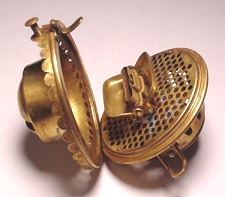 Wallace & Sons burner w/ Clamshell Extinguisher. Thumb wheel marked THE SUN HINGE W.&S.
In 1848, Thomas Wallace
started Thomas Wallace & Sons in Ansonia. Wallace received his training in Birmingham, England as a wire drawer, having come to America in 1832. He worked for some nine years at his trade in various places; the success of his ventures during this time are uncertain. In 1841, he moved to Derby, Conn. and through 1848, drew wire for the pin machines at the Howe Manufacturing Company. Later that year he began operations on his own account and Wallace & Sons was off and running in Ansonia. Wallace and his sons built a reputable business rolling metal and drawing wire.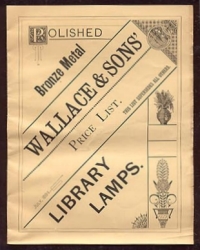 Wallace & Sons Catalog of
Hanging Library Lamps, July 1884
The firm incorporated in 1853
and business began to increase. After 1880 the plant was one of the largest in the Naugatuck Valley. Between 1880 and 1887 the profitabilty of many of the brass mills suffered. Prices fell and many plants operated at a loss during these years. Wallace & Sons folded in 1895.
In 1896, the W&S plant was purchased by the Coe Brass Company, which became the leading corporation in the trade. On December 14, 1899, Coe Brass Company, Waterbury Brass Company and Ansonia Brass & Copper Company merged to become the American Brass Company. American Brass absorbed Benedict & Burnham in 1900 and in 1901, acquired Holmes, Booth & Haydens.


Here are a couple interesting entries from The Willimantic Chronicle, Willimantic, Windham County, Connecticut. The Chronicle was published every Wednesday by McDonald & Safford, Editors and Publishers. Address listed as "Office, Hall's Block, Main & Union Sts." A subscription cost $1.50 per year.

	Wed Feb 25 1880: We notice by slips of paper tacked on 
	the poles of the Rapid Telegraph company, which passes 
	through this place from Boston to New York, that the 
	line has been attached by Wallace & Co. [sic], of Ansonia, 
	for material used in its construction.



	Wed Apr 28 1880: List of Patents. Granted by the United
	States to citizens of this State for the week ending 
	April 20, 1880, furnished for the Chronicle from the Law
	and Patent Office of J. McC. Perkins, 809, L Street 
	(just north of Patent Office, Washington, D.C.)

	E.L. Bryant, assignor to Wallace & Sons, Ansonia, hanging 
	or suspension lamp.
	B.L. D'Aubigne, Waterbury, button and button fastener.
	W.T. Lane and J.P. Avery, Norwich, machine for pressing 
	and ornamenting harness loops...
	
The Bryant patent referenced above is number 226,708, granted on April 20, 1880, for an improvement incorporating spring clips to help secure the shade on a hanging lamp.
The firm of Wallace & Sons is listed at 89 Chambers & 71 Reade Streets, New York, in the 1884 catalog. On an 1894 postal cover, they list their general offices, salesroom and warehouse address as 29 Chambers & 5 Reade Streets, New York. The reverse of the cover also depicts the following: Brass and Copper Rolling Mills, Ansonia, CT; United States Cartridge Co., Lowell, Mass.; Seamless Brass and Copper Tube Mills, Bloomsburg, PA.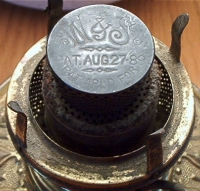 W&S Flame Spreader
Aug. 27, 1889, pat. #409,910
by Edson L. Bryant for the wick raiser.
Wallace & Sons
was assigned at least thirty-five lighting-related patents between February 14, 1860 and February 21, 1893. See the
patent table
below for details. Noteworthy inventors include Edson L. Bryant, assignor of twenty-one patents, and Joseph E. Bohner, assignor of five patents to Wallace & Sons.


Search Wallace & Sons' Patents

Patents assigned to Wallace & Sons between Feb. 14, 1860 and Feb. 21, 1893

27186
27666
27892
86824
140687
187595
194327
218228
223704
226708
242596
255588
255929
256968
258365
259087
263474
298800
308592
317203
318693
323687
338137
340416
375600
380858
389717
390837
409910
441393
456880
456881
461811
481154
492321
[ additional patents will be added as they are discovered ]

D = Design Patent, RE = Reissue of an earlier Patent
To view any of the above patents, enter the number in the box below and select Query USPTO Database. This will take you to the specific patent images on the U.S. Patent & Trademark Office Database. Learn more about the USPTO here.
References

Lathrop, William G. The Brass Industry in the United States. New Haven, CT: The Wilson H. Lee Company, 1926.