Early Lighting Patents

Researching early lamp and lighting patent information has traditionally been a cumbersome ordeal. While a number of libraries around the country are government repositories for documents and patent information, accessing it can be very time-consuming.
Most items are marked with only a patent date(s) and possibly a maker or patentee's name; a precious few items are marked with the actual patent number.
Searching through the mounds of patent information to match the date or name is, at the very least, frustrating. Fortunately, there are some resources that make patent searching more user-friendly! There is a wealth of information on the World Wide Web that can be of great interest to collectors and researchers. Much of this information is readily available, in a searchable text format as a result of the work done by libraries, historical societies, colleges and universities and other institutions dedicated to the preservation of our historical past. Many of these institutions have digitized or scanned large volumes of material an made it available on the Internet, including early periodicals, city directories, census reports and other genealogical information.




Lighting Patents in Print


Index of Early U.S. Lighting Patents: 1836 to 1901, compiled by Herbert Leflet. Mr. Leflet's work was published by The Rushlight Club in 1997, albeit in very limited quantities and available to the club membership as a premium.

	 The desire for factual information to aid 
	 in the study of early lighting was the primary 
	 reason for obtaining 4089 copies of early lighting 
	 patents.  It would probably be true to say that
	 this index of early lighting patents is the result  
	 of a problem managing three sets of 4089 patents
	 filed numerically, alphabetically and by subject.  
	 Each file contains over 12000 pages.  This project
	 began in 1978 and was completed in 1982.

 
	 -- H.A. Leflet,  January 21, 1997 (from the Preface)
	 

Patented Lighting, A Special Issue in Honor of the United States Bicentennial, published in 1976 by The Rushlight Club. It is a compilation of patent drawings and descriptions accompanied by pictures of the actual lighting devices which relate to the patent information.





Lighting Patents on the Internet


United States Lighting Patent Database, by The International Guild of Lamp Researchers. Inspired by Herb Leflet's research and launched in January 2002 (the first comprehensive database of its kind on the internet), the extensive database contains over 10,000 U.S. lighting patents covering a broad range of subjects - oil and kerosene, gas, gas pressure, and more. The database is fully searchable and you may sort the results by a number of methods. The search function will link directly to the USPTO database, explained below. So now, you can conduct your patent searches from the comfort of your own home!
The Guild's Patent Database can be accessed by following this link:

The Carnegie Library of Pittsburgh as part of their Science and Technology Department, has compiled a list of Pittsburgh inventors. Since many glasshouses and lamp makers were located in this area, there are a fair number of lamp/lighting patents in their archives.
The Carnegie Library web page on Patents and Trademarks can be accessed by following this link:
http://www.carnegielibrary.org/locations/scitech/ptdl/

Cornell University Library provides another great resource for patent research in the Scientific American periodicals. These magazines were published each week and were full of information on recent inventions, patent litigation, and a full accounting of recent patents granted and pending.
Fortunately, many of these issues are available on the internet. Cornell University Library, as part of their
Making of America
series, has digitized the complete issues from 1848-1869. These are in both text and image files. The text files are uncorrected versions generated by optical character recognition (OCR) software and do contain errors, but they are searchable and certainly help narrow down the search. These volumes contain a lot of good articles and images of lighting devices as well as other items patented at the time.
The Cornell Library web page on Making of America can be accessed by following this link:
http://cdl.library.cornell.edu/moa/moa_browse.html

United States Patent and Trademark Office (USPTO) which has set up an on-line Patent Database. It contains full text of all U.S. patents issued since January 1, 1976, and full-page images of each page of every U.S. patent issued since 1790.
The USPTO Web Patent Database can be accessed by following this link:
http://www.uspto.gov/patft/index.html
The pre-1976 patents are not searchable by text because they are images stored in a TIFF format. They are indexed by Patent Number and by a few other methods which are outlined on the site. Navigating around the site is a little tricky at first, but once you get the hang of it, it's fairly simple. You will also need a "TIFF Viewer" or equivalent plug-in for your browser. They are available free of charge from a number of sources on the web (see below for a link).

GOOGLE Patent Search is currently in BETA testing. "With Google Patent Search, you can now search the full text of the U.S. patent corpus and find patents that interest you." The "Google Patent Search covers the entire collection of patents made available by the USPTO—from patents issued in the 1790s through those issued in the middle of 2006."
The GOOGLE Patent Search can be accessed by following this link:
Here's another example of what you will find on the USPTO site: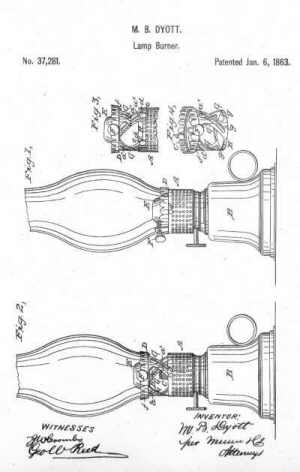 M.B. Dyott, Lamp Burner,
Patented Jan. 6, 1863, No. 37,281
If your browser presently supports .TIFF format,
or to see if it does, you can click here to view the full .TIFF version.
If you need to download a .TIFF Viewer,
the one I use, from AlternaTIFF, is available at: