a brief historical profile of
The Angle Lamp Company

The Angle Lamp
incorporated an innovative design in kerosene lighting that resulted from a revised thinking of the burner placement. This design change permitted more direct downward illumination with reduced undershadow. The inventor was
Thomas Mara Fell
. Thomas Mara Fell was born on January 5, 1829 in Shoreditch, London, England. On January 10, 1865, he married Elizabeth Bromley (born September 22, 1832) in Brooklyn, New York. They had three children: Thomas Mara Fell, Jr., Elizabeth Bromley Fell, and John Bromley Fell. Thomas Fell passed away on January 20, 1896 in Tenafly, New Jersey. His wife died on December 24, 1906 in New York City.
1
His first patent, number 392,418, was granted on November 6, 1888. It is intersting to note that the application was filed on August 11, 1885, fully three years prior to the patent grant. In the patent papers, Fell claims:

The object of my invention is to provide
an improved means for feeding oil to 
burners by a system of siphon-tubes, and
to use in connection therewith an angular
or horizontal burner, whereby a better 
and more effective light is obtained; and
a further object is to provide a globe 
or chimney of a peculiar form and 
construction to be used in connection 
with my angular or horizontal burners.
The second Angle Lamp patent, number 441,052, was granted on November 18, 1890 to George C. Berry, New York City, and Thomas M. Fell, Berry assigning said patent to Fell. The third known Angle Lamp patent, number 44,933, was obtained in Canada. It was obtained by Fell and John U. Bauchelle from Elizabeth, New Jersey. Bauchelle would later become a principal in the Angle Lamp Mfg. Company. For additional patent information, see the
patent table
below for details.
The general components of the Angle Lamp are the lamp body, which receives the removable oil reservoir and to which the burner(s) are attached; the burner(s); and the lamp glass which consists of an elbow and a chimney-shade. All Angle Lamps are of similar construction and are readily identifiable as such. With the exception of the Classic Table Lamp, all Angle Lamps were either hanging or wall mounted. The wall mounted versions came in single and double burner varieties. Hanging models generally came in two, three or four burner varieties. The Chandelier, a more ornate and expansive model, was advertised in four, six and eight burner sizes. Ceiling extensions were sold as an option so that the lamps could be raised and lowered as needed for cleaning, filling and lighting, or for varying lighting requirements. To view an early Angle Lamp advertisement, click here.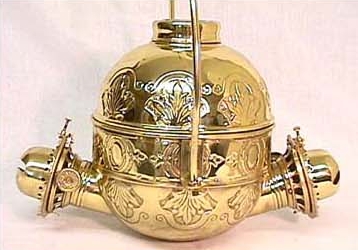 The metal components of the lamps were available in a number of options including embossed patterns and finishes. Finish options included polished brass, antiqued brass, antique copper, nickel plating, oxidized finishes, some were tin with a brass wash or plating, others painted. Not all options were available on every variety. The value of a lamp today has a lot to do with the condition of it's finish and the correctness of the finish to the particular model of lamp. Some of the embossed patterns are more scarce than others and can command higher prices in today's marketplace. A collector should use caution when cleaning or restoring a lamp so as not to damage or remove the original finish, especially the ones that are patinated.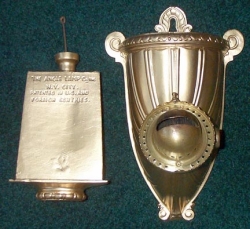 Angle Lamps are well known for their globe and chimney combinations, which could be as plain as a clear elbow with a white milk glass chimney, or as ornate as a etched elbow with bird and floral decoration topped with art glass chimneys of cranberry opalescent glass. In addition to white and clear, chimneys were made in a plethora of colors including blues, ambers, cranberry, amberina, and many opalescent colors as well. Art glass varieties are highly sought after by today's collectors and fetch premium prices in shops and at auction. Angle lamp elbows and chimney-tops have been made by a number of different companies over the years. Reproductions and modern copies abound. A novice collector would be wise to study the differences and learn the markings that are embossed on the lamp glass. The Fenton Art Glass Company recently produced replacement petal-top chimneys in a variety of colors. They differ from the originals in a number of ways and are generally readily identifiable as such. The weight of the glass, the subtle color variations, and the execution of the hand-formed petal-tops are all characteristics which can both date and authenticate subject pieces.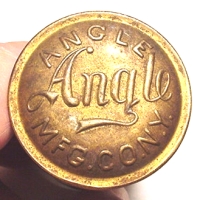 Here's a very interesting item that I acquired some time ago in a box of lamp parts. It is a flame spreader for a center draft lamp with the Angle Lamp logo embossed on it. This item has been used. It fits a draft tube that is 1-3/8" in diameter, and is 2-1/8" tall. To my knowledge, The Angle Lamp Company did not manufacture a center draft lamp . . . or did they? I have asked several advanced lighting collectors and none of them had ever seen one, nor were they aware of the existence of same. If you have information on this flame spreader, I would appreciate hearing from you. You may contact me
here
.
I have made no attempt here on this page to give the entire story of The Angle Lamp Company or the great variety of lamps that they produced over the years. For more detailed information on Angle Lamps, including manufacturing history, maker's marks, patterns, glass and collector tips, I encourage you to read the book,
Angle Lamps Collectors Manual & Price Guide
by J.W. Courter. Copies of this guide and an Angle Lamp catalog are available from the
Book Nook Bookshop
on this web site.


Patents for The Angle Lamp

To view the complete patent, select the patent you wish to view, then click Query USPTO Database. This will take you to the U.S. Patent & Trademark Office Database. You are then just two mouse clicks away from viewing the actual patent. Learn more about the USPTO here.
End Notes

1 http://freepages.genealogy.rootsweb.com/~bromley/LUKE%20BROMLEY/pafg21.htm
References

Courter, J.W. Angle Lamps - Collectors Manual & Price Guide. Kevil, KY: J.W. & Treva Courter, 1992.