the man and his company - part I
William R. Noe

William Robert Noe was born on June 2, 1853
to Caroline Hanshe Noe and Augustus Sears Noe. Augustus Sears Noe was a furniture manufacturer in Philadelphia although he had been raised in New York City. Between the years of 1841 and 1851, Augustus Sears Noe is listed in the New York City Directories as a cabinet maker at a number of addresses - 278 W. Eighteenth St., 43 Jane St., 23 Charles St., 52 Grove St. and 8 Amity Place. The family moved to Philadelphia sometime before October 26, 1855 when the youngest daughter, Jennie, was born. Augustus Sears died on February 16, 1863. The Noe family brought his body back to the Greenwood Cemetery in Brooklyn for burial. It is unclear why the family moved to Philadelphia initially, as the family ties to New York City were quite strong.
Only ten years old when his father died, William R. Noe was quite attached to his family, his church and a wide circle of friends. He was fond of writing doggerel verse, poking gentle fun at his relatives and friends. He was also quite fond of the city of Newark, New Jersey. He married Fannie Bennett in June 1879 in Woodside, New Jersey (Woodside is an old name for North Newark). Two of William R. Noe's sons, Charles Eugene Noe and Harold Cooper Noe, attended Newark Academy. William R. Noe built a large home on Prospect Street in East Orange, New Jersey. In the late 1930s or early 1940s, the house was deeded over to Upsula College as a dormitory as it adjoined the college campus. Upsula College is no longer in existence; it went out of business in the mid- or late 1990s.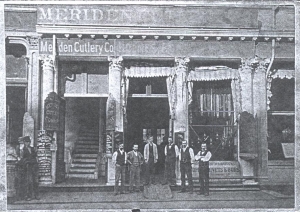 There doesn't seem to be much connection between William R. Noe and his Noe cousins despite the five brothers of Augustus Sears Noe. Through his grandmother Jane Hunt Noe, William R. Noe inherited shares in her brother's estate, which was distributed annually, from 1887 to 1916. That inheritance may have allowed him to buy into the partnership of Botsford & Lacy. Separate from his lamp business, William R. Noe also was involved with real estate deals in Manhattan with his Hanshe cousins (his mother's side of the family)- Robert Eugene Smith and Charles Linden Smith. Robert Eugene Smith was a first cousin to William R. Noe; his mother was Emeline Hanshe Smith, sister to Caroline Hanshe Noe.
As a young man during the 1870's, William R. Noe worked as a salesman for Holmes, Booth & Haydens, dealers in brass and lamp goods, at 49 Chambers Street, New York City. One of the items he kept was a Holmes, Booth & Haydens' Price List of Kerosene burners and Lamp trimmings, dated September 24, 1878. A scarce piece of ephemera indeed. Some of the burners included are the No. 00 Ne Plus Ultra for 90 cents per dozen, the No. 2 Richmond Burner at $3.50 per dozen, and Star Burners for 80 cents a dozen and packed 50 dozen per case! Prices for packing varied between one and two cents per dozen - imagine that! William R. Noe obtained two patents in 1885 and 1886 that were assigned to H.B.&H., see the patent table in Part II for details.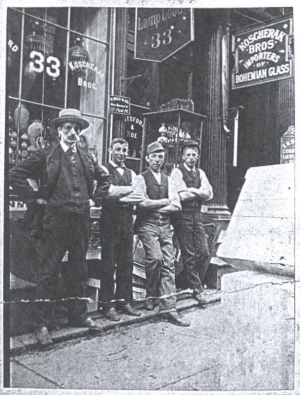 Eventually he left H.B.&H. and went into partnership with Nelson J. Botsford of Botsford & Lacy, another concern specializing in lamps and lamp goods. Botsfords partner was one William Lacy, Jr. A journal entry dated January 21, 1887, shows that William R. Noe bought into the business for $2,650.00. His investment included the existing stock of lamp goods, store fixtures and other goods, excluding one safe! The new partnership became known as Botsford & Noe, and was located at 33 Park Place in New York. Around 1890 they moved to a larger location at 52 Park Place. Botsford & Noe continued until 1893 when Nelson passed away. In a document dated January 23rd, 1893, Botsford's widow Jennie agrees to "...sell, assign, transfer and set over unto William R. Noe all the right, title and interest of the said Nelson J. Botsford in and to the property of the late firm of Botsford & Noe." Noe agreed to pay $9000.00 for the business - $7000.00 in cash and $2,000.00 in a promissory note. Shortly thereafter, William R. Noe went into business for himself at 53 Murray Street where he occupied the entire building.
In a printed letter dated January 1, 1910 and sent to his customers, William R. Noe writes:
"I take pleasure in announcing the above new style 
for my business [referring to a new logo].  It means that
my sons, William Robert, Jr., and Charles Eugene, who 
have been associated with me, are now my partners.  The
trade, by their continued and enlarged patronage, have 
evidenced their appreciation of my new lines and methods
of business, compelling an increase of my facilities to
serve their wants."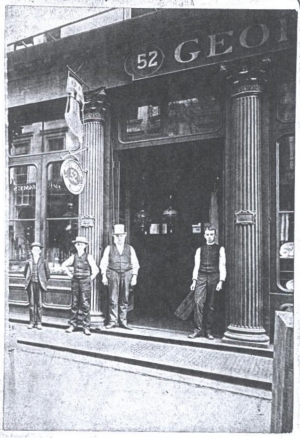 The firm had a brass goods factory in Brooklyn located at 231-41 Willoughby Street, and a large lamp, shade and novelty factory at 53-55 W. 21st Street. The youngest son, Harold Cooper Noe, joined the firm in 1913 or 1914. Harold Noe was the only brother to graduate from college. He was a mechanical engineer, graduating from Stevens Institute of Technology in Hoboken, New Jersey in 1912. After graduating from college, Harold Noe worked as an engineer on a construction project in Wisconsin and then was called into service during World War I. He joined the company after serving in the U.S. Army in France during WWI, probably sometime in 1919. As part of William R. Noe & Sons, Harold Noe was responsible for the manufacturing plant in Brooklyn and held a number of lamp patents. He also held patents on textile machinery, boat hulls and fluid transmission. His brothers, Rob and Gene, ran the showroom in Manhattan.
The lamp business continued under the same name after William R. Noe's death in May 1920. Throughout the 1910's and 1920's the firm appeared to be quite healthy. In 1927, the firm's balance sheet listed assets and liabilities at $685,610.63. The company opened the Brooklyn manufacturing plant at 231 Willoughby Street in 1930. The company's office and showrooms were part of the mezzanine floor at 1 Park Avenue. The business survived the initial years of the Great Depression but filed for bankruptcy reorganization in 1935. It failed sometime in the late 1930's.
Harold C. Noe joined Mutual Sunset Lamp after the failure of William R. Noe & Sons. That association apparently did not last long. In 1940, he got a job through a college connection at Silver Springs Salt Company in Silver Springs, NY. In 1943, he went to work for Walter Kidde & Co. After 18 years, he retired in 1961 as vice president of the Kidde Textile Machinery Company Division of Walter Kidde & Co., located in Bloomfield, NJ. He did some consulting on manufacturing issues for Kidde after his retirement. Harold died in July of 1968. It is uncertain if William R. Noe, Jr. ever worked after the dissolution of the lamp company. His wife, Anna Liebert Noe, was apparently quite wealthy and they had no children. By 1940, William, Jr. was 60 years and ready for retirement. There wasn't much a financial incentive or need to find other work. He died in October of 1959. Charles Eugene Noe moved to Boston and worked as a salesman for Sterling Drug Co. He retired to Oak Park, Illinois to be near his only child, a daughter who had married and relocated there. He died in March of 1970.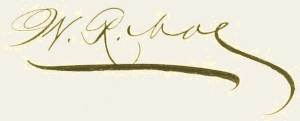 References

The author wishes to gratefully acknowledge the contributions to this project made by Patricia B. Noe, great-granddaughter of William R. Noe. Patricia graciously and unselfishly provided me with access to her family history and provided me with the period photographs and ephemera related to the business associations of William R. Noe. Without her, this project could not have been completed.


McDonald, Ann Gilbert, The Evolution of the Night Lamp, 1979, Wallace-Homestead Book Company

Please proceed to William R. Noe, Part II